Workshops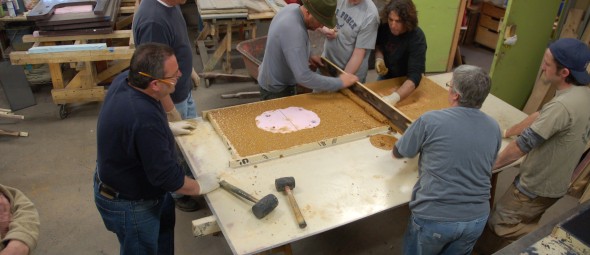 Here at Stone Soup Concrete we have been teaching the art of concrete countertops since 2003. We share a passion for maximizing the possibilities available to those who have chosen to work in concrete.
Stone Soup Concrete's workshops are designed to provide you with the means for an education, rather than the framework for certification. You will not leave with a bag of mix, a textbook or any clichés. You will leave with a more thorough understanding and practical hands-on experience for making beautiful concrete countertops and other architectural elements. We hope you will find our openness to sharing our techniques, processes, and business practices refreshing.
We at Stone Soup Concrete believe that community is essential to the development of a strong artisan based industry, so we remain in close contact with many of our former students. A good number of them have become industry leaders themselves.
All workshops include:
Hands-on participation with the design & fabrication of a real project.
Review of concrete chemistry and planning considerations.
Time aside daily to discuss the business & art of concrete.
The active participation of industry leaders.